Share Me
Sharing is the way God wants it.
Sharing
 the Good News of the Gospel was the last instruction Jesus gave us before he left Earth, the 
COMMAND
 has become known as 
"The Great Commission."

We read it in Matthew 28:19-20
19 Go ye (that's YOU) therefore, and teach all nations, baptizing them in the name of the Father, and of the Son, and of the Holy Ghost:
20 Teaching them to observe all things whatsoever I have commanded you: and, lo, I am with you always, even unto the end of the world. Amen.
Sharing
 

your time, service and money to those who teach you God's word was the instruction written by the Apostle Paul.

We read it in Galatians 6:6-10

"Let him (that's YOU) that is taught in the word communicate (G-I-V-E) unto him that teacheth (that's me) in all good things (money, service, time). Be not deceived; (here comes the warning if you don't comply) God is not mocked: for whatsoever a man soweth, that shall he also reap. For he that soweth to his flesh shall of the flesh reap corruption; but he that soweth to the Spirit shall of the Spirit reap life everlasting!
Here's how to do some righteous sharing!
1.
Donate!
Think about how you found us today. It wasn't an accident. And it cost money. Your donation of any amount (that's between you and God), is not only appreciated, but a vital part of my ministry. Send it Ahead friend!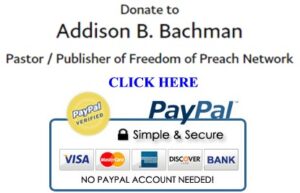 2. Buy Our Merch!
Search our FPN store for your favorite members' website merchandise. This is an instantaneous fix for your sharing needs. You get a great product and conversation starter (sharing your time and service). AND, we get a piece of the action!
3. Tell your friends!
Use all your social media accounts to spread the word about FPN and your favorite member site!
"OMG I just found the most amazing website. You have to go see www.JesusMAGA.com!"
4. Follow / Like Us!
Twitter
https://twitter.com/IAMJesusMaga
FaceBook
https://www.facebook.com/IAMJesusMaga
Truth Social
https://truthsocial.com/@JesusMAGA
Instagram
https://www.instagram.com/iamjesusmaga
PLUS - Many of our member sites have Social Media accounts. Visit each site and find their icons, Follow them and Like their pages too!